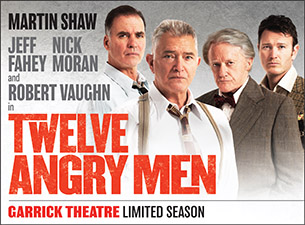 J
just seen "Twelve Angry Men" at the Garrick Theatre - it has had excellent reviews and certainly we were not disappointed. I always find it fascinating seeing famous actors at close quarters - particularly those who have been part of the catalogue of credits we viewed when young. One of these most notably is Robert Vaughn who I remember so well from "A Man From Uncle" - seems a lifetime ago. Robert Vaughn is sadly showing signs of decline and looks all of his 80+ years but still gives an excellent account of himself.
Martin Shaw also superb. I did worry about how he would portray and American but needn't have done so - all carried very well as was the performance of all the others including Jeff Fahey and Nick Moran.
see extract below from link
http://www.boxoffice.co.uk/arts-and-theatre-tickets/plays/twelve-angry-men-tickets.aspx?gclid=COGLrpiUvbsCFTDMtAodTyEAxQ
the classic 1957 Sidney Lumet movie that featured Henry Fonda in a starring role is one that is remembered
fondly by movie lovers everywhere but what few may know is that it is based on a teleplay that screened on US television earlier in the 1950s and its subsequent stage play from 1955. Now audiences in the West End will be able to witness this stage production once again as the
Garrick Theatre
welcomes a star cast in
Twelve Angry Men
.
Whereas that iconic movie featured Fonda alongside Jack Klugman and others, the Garrick play will feature Robert Vaughn, Martin Shaw, Jeff Fahey and Nick Moran among the cast members. So as well as re-exploring a classic story it will also offer the opportunity to see some high profile actors on the stage.
Twelve Angry Men focuses on the jury of murder trial. Following the court proceedings we witness as 12 jurors retire to deliberate on the case of a young boy accused of murdering his father. At first it seems as though this is going to be an easy decision to come to but thanks to the thinking of Juror 8 it is clear that there is more to it than meets the eye. Perhaps they won't be able to make it home soon after all.
Robert Vaughn is a veteran actor whose work has spanned the stage and screen on the other side of the Atlantic. His credits include movies like The Magnificent Seven, The Bridge At Remagen, Bullitt and BASEketball, among others, as well as stage productions of The Real Inspector Hound in the US.
Twelve Angry Men follows the long-running Rock of Ages at the Garrick Theatre when it opens at the venue on 11th November 2013 (previews from 7th November 2013). The show arrives in the West End on the back of a UK tour.